The 2023 Ram 3500 is a powerful, heavy-duty truck, but that's not all that makes it the ideal towing machine. It also includes standard and available towing technologies to help simplify your worksite tasks. This new model carries over some of our favorite towing technologies, plus some brand-new features for the Ram 3500 lineup.
Available Digital Rearview Mirror with Tow Mode
The inability to see directly behind a trailer is one of the most frustrated aspects of towing, especially if you're pulling a tall, enclosed trailer. The available Digital Rearview Mirror with Tow Mode lets you see behind the truck and the trailer, helping to bypass blind spots and rear seat blockades. Don't worry—you can still use the traditional rearview mirror when preferred. Simply toggle the Digital Rearview Mirror on or off at your own discretion.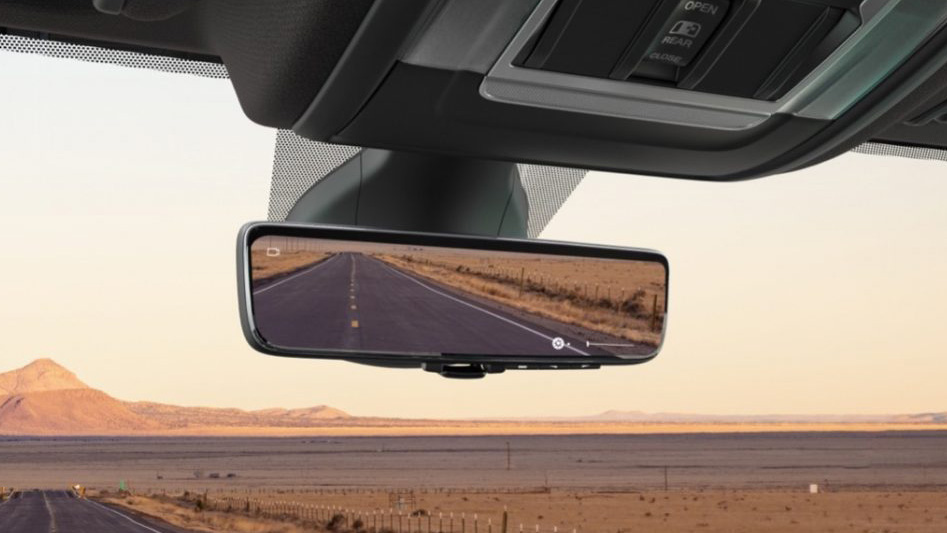 Available The 360° Trailer Surround View Camera
Want to really evade those blind spots? This feature takes the Digital Rearview Mirror's capabilities even further. The available 360° Trailer Surround View Camera2 (available Spring 2023) offers multiple different camera views—the Trailer Surround Camera and Trailer Reverse Guidance2 views are the most helpful for towing and hauling.
The Trailer Surround Camera view helps you see what's on each side of your trailer and is helpful whether you're driving forward or backward. The Trailer Reverse Guidance view provides access to multiple different trailer view angles to help you back up your trailer with ease. These camera options will appear when you shift into reverse, but you can also access them any time via the Uconnect system.
LED Trailer Hitch Light
Unfortunately, the job doesn't always end before sunset—especially during winter months. That's why the 2023 Ram 3500 features a standard LED Trailer Hitch Light so you can hook or unhook your trailer after dark. This feature is also handy if you're in a low-lit area such as a warehouse or garage. The light is attached to the tailgate and does not require any special configurations.
Trailer Tire Pressure Monitoring
It's not uncommon for a modern vehicle to offer a tire pressure monitoring system, but what about the trailer tires? The drive can quickly take a dangerous turn if a trailer tire goes flat without warning. That's where Trailer Tire Pressure Monitoring comes in. This standard feature provides you with live tire pressure level readings on the Driver Information Digital Cluster Display. While it's still important to manually check your trailer's tire pressure, this feature can help you stay ahead.
Available Trailer Reverse Steering Control
New to the 2023 Ram 3500, available Trailer Reverse Steering Control2 can take the stress out of backing up a trailer. Guiding a trailer where you want it to go can be frustrating. That's why Trailer Reverse Steering Control feature allows you, the driver, to focus solely on acceleration and braking.
Simply use the knob labeled "Trailer Steer" located on the center stack to choose which direction you want the trailer to go. This feature even enables you to back the trailer up in a straight line without needing to fight the steering wheel.
Upgrade Your Towing Game
In addition to these features, the 2023 Ram 3500 adds updated camera view options such as behind-trailer view2 and blind-spot view3, plus next-generation telescoping trailer tow mirrors.
Want to add these convenient towing technologies to your fleet? Keep an eye on our blog and website for updates and information about the new 2023 Ram 3500 lineup.
1 When properly equipped. See dealer for details.
2 Always check entire surroundings visually before proceeding.
3 Always check visually for vehicles prior to changing lanes.