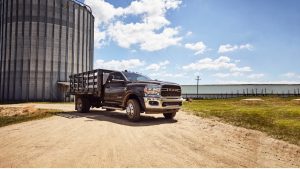 Intro
The 2022 Ram Chassis Cab has various features that are beneficial to your fleet—including advanced safety and security technologies.
Power and capability are essential for your fleet lineup, but one crucial factor is often overlooked, and that's vehicle safety. While having a reliable and powerful engine is good, it's equally important to have a truck that can get the job done while still prioritizing the driver.
Luckily, the 2022 Ram Chassis Cab compiles power, capability safety and security into one truck. Driver assistance features are available no matter which new Chassis Cab trim or configuration you choose.
Safety and Security Features and Technologies
Safety and security technologies are not meant to replace awareness. Drivers should follow safety protocols and remain attentive; however, some instances are beyond their control. That's why it's good to have an extra pair of eyes on the road no matter how careful or focused a driver is.
The 2022 Ram Chassis Cab lineup offers standard and available features to help increase driver safety, security and responsiveness, including the following technologies:
Adaptive Forward Lighting
Whether you're working late at night or super early, sometimes natural lighting isn't an option. And even when it is available, it's not always enough to cut it depending on your location. That's where Adaptive Forward Lighting for the 2022 Ram Chassis Cab comes in. These available LED headlamps can turn up to 15 degrees, increasing brightness and covering a broader area than regular headlights.
Forward Collision Warning with Active Braking
Front-facing collisions can happen fast. Whether a deer jumps out in the road, or the vehicle ahead abruptly stops, available Forward Collision Warning with Active Braking1 is there to help. It sends an alert when a front-end impact is possible. This technology will also trigger the Chassis Cab to automatically stop when potential impact is detectable.
LaneSense® Lane Departure Warning with Lane Keep Assist
Available LaneSense® Lane Departure Warning with Lane Keep Assist2 encourages alert and focused driving through alerts and vehicle guidance. It will notify the driver when they've unintentionally crossed another lane while helping to guide the Chassis Cab back onto the desired track.
Adaptive Cruise Control with Stop
Traffic flow isn't always predictable. The 2022 Ram Chassis Cab comes with available Adaptive Cruise Control with Stop3 to help the driver maintain a reasonable distance from the vehicle ahead while sustaining a consistent speed.
ParkSense® Front and Rear Park Assist
Available ParkSense® Front and Rear Park Assist4 makes parking more manageable, thanks to front and rear object sensors. Don't worry—upfitting your Chassis Cab won't affect or block its rear parking sensor. The rear sensor will be shipped to the dealership post-purchase for professional installation.
These standard and available safety and security technologies provide extra protection for your fleet. Visit a BusinessLink dealership near you and discover all the ways that the 2022 Ram Chassis Cab can benefit your business. 
This system is solely an alert system for the front of the vehicle that does not take any actions to change vehicle dynamics to avoid a collision, not a substitute for active driver involvement. The driver must remain aware of traffic conditions and be prepared to use brakes to avoid collisions.
This system is a driver's convenience system, not a substitute for active driver involvement. The driver must remain aware of traffic conditions and maintain control of the vehicle.
This system is a driver's convenience system, not a substitute for active driver involvement. The driver must remain aware of traffic conditions and be prepared to use the brakes to avoid collisions. 
Always look before proceeding. An electronic drive aid is not a substitute for conscientious driving. Always be aware of your surroundings