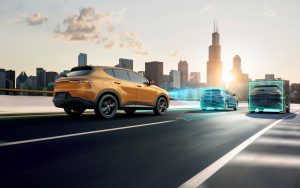 Stellantis N.V. and aiMotive have come together to supercharge the company's autonomous driving tech platform. aiMotive is a leader in advanced artificial intelligence and autonomous driving technology, and will now operate as a subsidiary of Stellantis, maintaining its start-up spirit.
Prior to acquiring aiMotive, Stellantis was working on STLA AutoDrive, and aiMotive had already created aiDrive—two strong autonomous driving platforms. AutoDrive and aiDrive now come together to enhance autonomous driving technology development across four Stellantis vehicle platforms—small, medium, large and frame.
"Acquiring aiMotive's world-class artificial intelligence and autonomous driving technology is an important contribution to becoming a sustainable mobility tech company," said Yves Bonnefont, Stellantis Chief Software Officer. "aiMotive's class-leading expertise and startup spirit will accelerate our journey to deliver our Dare Forward 2030 goals."
STLA AutoDrive
The STLA AutoDrive platform focuses on Level 2, 2+ and 3 autonomous driving technologies. Level 2 features are already on the market, such as semi-automated lane change. Level 3 technologies are currently in development as part of a four-year project (2021-2025).
aiDrive
aiDrive focuses on all autonomous driving levels (through Level 4) using virtual sensor technology known as the multi-sensor model-space network (MS2N). aiDrive is:
Scalable
Reusable
Robust
Light-Weight
Automotive-Grade Compliant
Both technologies unite to accelerate the Stellantis autonomous driving platform.