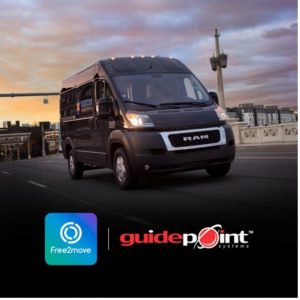 We work hard to make vehicle connected data easy. Recently, we announced the collaboration between Guidepoint Systems, a global vehicle telematics and Software as a Service (SaaS) provider, and Free2Move, the global fleet, mobility, and connected data brand of FCA US LLC.
This joint effort between Guidepoint and Free2Move provides Ram, Dodge, Chrysler, and Jeep® commercial vehicles with connected data via Guidepoint Air™. Properly equipped MY2018 and newer FCA vehicles can now access fleet management services, vehicle diagnostics, inventory management, and auditing services in one space. No additional hardware is required for compatible models.
"We are continuing our strategy aimed at facilitating the access to connected vehicle data and to provide insights to FCA fleet owners and operators by using Free2move solutions, such as Connect Fleet, which we plan to deploy soon, but also by enabling connectivity with platform partners for the benefit of the users of these platforms. This is the case, for example, with Guidepoint, whose users can now access data from their eligible FCA vehicles thanks to the connection established between the Free2move MultiBrand server and Guidepoint", said Benjamin Maillard, general manager of North America at Free2move.
Guidepoint Air™ is compatible with MY2018 and newer Stellantis Fleet and Pursuit vehicles, including the Dodge Charger Pursuit, the Durango Pursuit, and Ram ProMaster, along with other commonly used government and commercial fleet models.
These technologies are continuously evolving, making fleet management more accessible than ever before. Visit here to learn more about how our telematics solutions can maximize your fleet performance.