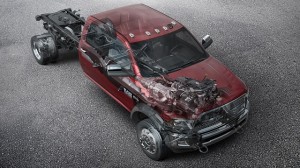 Selecting the right heavy-duty truck for your commercial needs can be a little intimidating, especially when you're first starting out in business. There are so many specifications to sort through that it can be hard to know where to start.
To simplify the process and make things a little more understandable, Ram Truck chassis cabs are broken down into three series reflecting their load capabilities: 3500, 4500 and 5500. Below are their basic hauling specifications, specifically Gross Combined Weight Rating (GCWR). GCWR is a mouthful, but it simply means the weight of the truck, including its maximum allowable cargo.
3500: GCWR up to 30,000 lbs. and 22,750 lbs. max. trailer weight
4500: GCWR up to 32,500 lbs. and 24,650 lbs. max. trailer weight
5500: GCWR up to 37,500 lbs. and 29,600 lbs. max. trailer weight
If you're still unsure about your load capacity needs, you'll want to check in with your upfitter or truck body supplier and get his or her recommendations for the specific usage you have in mind. Don't be afraid to ask—actually, these professionals are hoping you will. Your local BusinessLink® dealer can also be of assistance here.
Naturally, Ram Trucks carefully matches the drivetrain and suspension components to the specific load rating of each truck, so the buyer doesn't have to. In all three series, buyers have their choice of two legendary engines: the gasoline-fueled 6.4L HEMI V8 or the 6.7L Cummins Diesel Turbo.
However, the option lists do provide flexibility for individual applications. For example, if the load requirements are not too extreme, 3500 chassis cab buyers can specify the 5.7L HEMI V8 in place of the 6.4L unit, and single rear wheels instead of the standard duals. These selections can produce a significant savings in both purchase cost and fuel/maintenance expenses. For more information on all the great choices in the Ram Heavy Duty Truck lineup, visit our website or stop by your closest BusinessLink dealer.