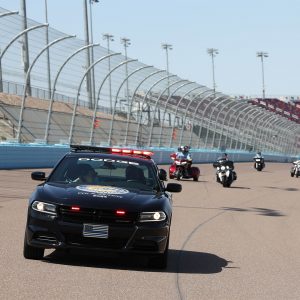 Former NASCAR driver and racing broadcaster Kyle Petty's long-running motorcycle event for charity has completed its first trip since going on pandemic hiatus after a quarter century of annual rides. FCA US LLC was proud to return and participate in this continuing tradition.
The long-awaited 26th Anniversary Kyle Petty Charity Ride Across America was 1,500 miles on a seven-day trek along with approximately 225 participants, all to raise funds and awareness for Victory Junction – a camp dedicated to providing life-changing camping experiences for children with serious medical illnesses.
As in previous years, FCA US LLC provided a Dodge Charger Pursuit as the official pace car in addition to support vehicles provided through Dodge Law and FCA Fleet.
"We've been planning this 26th Anniversary Ride since the end of our 2019 event, and patiently waiting for the right time to gather again amidst the coronavirus pandemic. So now, nearly three years in the making, I'm beyond thrilled to finally get our Riders back together for an exciting adventure in Arizona and Utah," Petty said in a press release posted to the event's site before the ride. "And it's all for the kids at Victory Junction! We ride so that deserving kids get to experience the magic of Camp."
The ride began on April 30 in Phoenix and took riders along a scenic route that stopped overnight in Lake Havasu City and Flagstaff, Arizona; Bryce Canyon City and Monument Valley, Utah; and Sedona,

Arizona, before completing the journey back in Phoenix on May 6. Spectators were encouraged to catch up with the group at these waypoints where they could meet Petty and other riders, purchase memorabilia and make donations.
Victory Junction was founded by Petty and his family in 2004 in honor of his late son, Adam. Since then, the organization has provided more than 100,000 camp experiences to sick kids. The Kyle Petty Charity Ride Across America has raised more than $19 million for Victory Junction and other children's charities since its inception in 1995.
Dates for the 2023 Kyle Petty Charity Ride Across America will be announced later this year. For more information, please bookmark these URLs:
KPCR home: http://www.kylepettycharityride.com/
Facebook: https://www.facebook.com/KPCharityRide/
Instagram: https://www.instagram.com/kpcharityride/
Twitter: https://twitter.com/kpcharityride