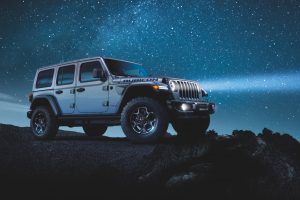 On December 7, 2021, with a live online event for investors, media and consumers, Stellantis N.V., the parent company of Chrysler, Dodge, Jeep®, Ram Trucks and ten other iconic auto brands, announced its new integrated software strategy. During the broadcast, Stellantis executives outlined a plan to deploy next-generation tech platforms which build on existing connected vehicle capabilities to transform how customers interact with their vehicles.
The advancing technologies will move Stellantis vehicles from today's dedicated electronic architectures to an open software-defined platform that more fully integrates with the digital lives of customers. The transformation will expand the options Stellantis customers have for adding innovative features and services via regular over-the-air (OTA) updates, keeping vehicles fresh, exciting and updated years after they've been built.
"Our electrification and software strategies will support the shift to become a sustainable mobility tech company to lead the pack, leveraging the associated business growth with over-the-air features and services, and delivering the best experience to our customers," said Carlos Tavares, Stellantis CEO. "With the three all-new AI-powered technology platforms to arrive in 2024, deployed across the four STLA vehicle platforms, we will leverage the speed and agility associated with the de-coupling of hardware and software cycles." 
Stellantis also continues its dedicated projects with Waymo. As Chrysler Pacifica Hybrid minivans equipped with the Waymo Driver provide thousands of fully autonomous rides in Phoenix, Arizona, Stellantis and Waymo have now expanded their partnership to local delivery services. Building on Stellantis' leadership in light commercial vehicles and its investment in electrification, the partners are collaborating on work streams focused on commercial development. Engineering teams will get their hands on Stellantis prototypes in 2022.
For more information on the software plans of Stellantis N.V., read the official press release or watch the full replay of the event. For a look at how these changes can and will be implemented in real-world scenarios, please enjoy this video from the Jeep Brand.