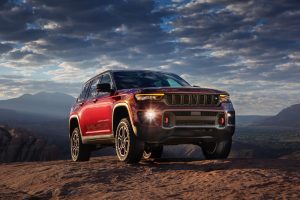 The fact the Jeep® Grand Cherokee is the most-awarded SUV ever1 probably explains why it is also one of the most popular, with more than 7 million sold since its debut at the Detroit Auto Show in 1992.
After almost 30 years and four generations, the iconic SUV is poised to continue its successful run with the introduction of a fifth-gen version, the All-New 2022 Jeep Grand Cherokee.
Designed to prioritize overall passenger safety, comfort and convenience, the All-New 2022 Jeep Grand Cherokee offers a powerful punch with new innovative features and technologies that make it a true stand out in the mid-size SUV field.
"Customers have come to depend on and enjoy their Grand Cherokee for four generations," said Jim Morrison, Vice President – Jeep Brand North America. "We have taken their input into making the most-awarded SUV of all time even better for the fifth generation."

Check out the video below for a closer look at how the All-New 2022 Jeep Grand Cherokee has been redesigned to deliver even more of what has made this SUV a global icon both on road and off, including:
Legendary capability
Impressive technology
More space and versatility
World-class craftsmanship
Safety and security
The All-New 2022 Jeep Grand Cherokee will begin arriving at dealerships across the country in the fourth quarter of 2021. The Jeep Grand Cherokee 4xe, a plug-in hybrid electric version, is scheduled to arrive in early in 2022.
Contact your local BusinessLink dealer for more information on this and other exciting new vehicles in the Chrysler, Dodge, Jeep and Ram Trucks lineup.

1The Jeep Grand Cherokee has received more awards in its lifetime than any other SUV.