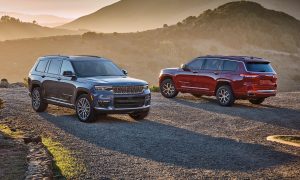 A new assembly plant in Detroit is poised to have a BIG impact on the city, and not just because of its more than 2.5 million feet of floor space.
Started in 2019 and completed this year, the Detroit Assembly Complex – Mack is the first new assembly plant in the city in nearly 30 years. The $1.6 billion state-of-the-art facility was built by Stellantis N.V., the newly formed parent company of Chrysler, Dodge, Jeep®, Ram Trucks and other iconic auto brands, to produce the all-new three-row Jeep Grand Cherokee L, the next-generation Jeep Grand Cherokee and, eventually, electrified versions of both vehicles.
More important than the vehicles rolling off the new assembly line are the people who will be manning it. The plant will ultimately create 3,850 new jobs, with Detroit residents having a priority in the hiring process. In fact, more than 2,000 proud Detroiters have already been hired in.
In addition to the thousands of new jobs, Stellantis N.V. is investing $35 million directly into Detroit for neighborhood improvement efforts, workforce development and training programs.
Here's a look at how officials from Stellantis N.V. worked closely with state and local leaders to make the new plant a reality.
Visit a BusinessLink Dealership near you to test drive one the first vehicles to roll off Detroit's newest assembly line, the all-new three-row Jeep Grand Cherokee L.