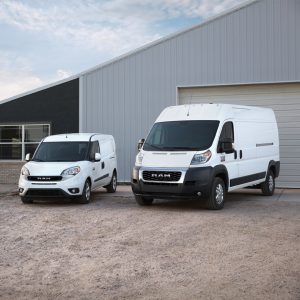 Dependable, reliable, intelligent, hardworking – in many ways, the traits you value in new hires should be the same you look for in new work trucks and cargo vans.
While there are obvious differences – machine intelligence is clearly not the same as human intelligence – a "smart" vehicle that can alert its operator to potential hazards when parking in reverse, for example, is bound to be more valuable to a business than a vehicle without similar capabilities.
Available ParkSense® Rear Park Assist1 is just one feature among many that make the Ram ProMaster® and Ram ProMaster City® cargo vans especially suited to vocations like plumbing, electrical, HVAC, delivery services and more.
In fact, from load floor height (lowest in its class for the ProMaster2) to max payload (best-in-class for the ProMaster City3), Ram cargo vans are entirely purpose-built, with every feature engineered and optimized for work out in the field.
Please watch the videos below or stop by your local BusinessLink dealer to learn more about built-for-work Ram cargo vans. Better yet, do both!
2021 Ram ProMaster | Designed to Deliver
2021 Ram ProMaster City | Workhorse Performance
1Always check entire surroundings visually before proceeding. 2Based on the Large Commercial Van Segment (Class 2). 3Based on the Small Commercial Van Segment (Class 1).