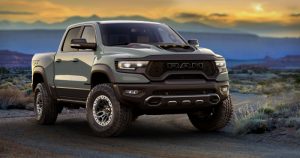 Let's face it. The 2021 Ram 1500 TRX is not a work vehicle. Try as we might to spin it as one (to justifying posting cool images and videos on the blog), we just couldn't figure out what business this off-road monster would have on the jobsite.
Then it dawned on us. To bring a complex product like this to market takes a massive team of talented people all working together toward a common goal. While the TRX isn't a work truck in the traditional sense, it IS a great example of what people can do when they're excited about their work, inspired by their colleagues and tasked by superiors with delivering something big.
Please enjoy this look "behind the badge" at the making of the 702-horsepower 2021 Ram 1500 TRX off-roading pickup truck. And keep in mind that the energized, dedicated folks in these videos, along with their colleagues, are the same people responsible for the FCA work vehicles that professionals like you drive and depend on each and every day.
2021 Ram 1500 TRX | Powertrain | Behind the Badge
2021 Ram 1500 TRX | Engineering | Behind the Badge
2021 Ram 1500 TRX | Interior Design | Behind the Badge
2021 Ram 1500 TRX | Exterior Design | Behind the Badge