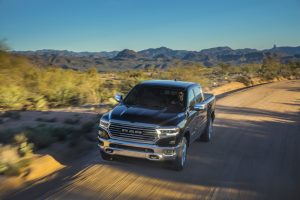 "You can't beat the fact my wife, my kids and I can fit into that truck as comfortably as any other car that we've owned. It's a combination of utility vehicle, luxury car and pickup truck. It's the perfect choice for us." –Jerry Howard, NAHB
Jerry Howard is the chief executive officer of the National Association of Home Builders (NAHB). He is also the proud owner of a Ram 1500, a pickup truck he selected for a variety of reasons, including the fact that last year Ram Trucks added this important award to its trophy case.
Watch the video below to hear more from Mr. Howard about his new Ram truck, his stress-free dealership experience and the generous NAHB member benefit available to him and all members of NAHB on the purchase or lease of select Chrysler, Dodge, Jeep® and Ram Brand vehicles.
For more information on the NAHB member benefit, like who else is eligible to use it (hint: household family members and employees of NAHB members), please read this post on our blog or visit the NAHB members savings page at www.nahb.org/savings.
Vehicle pictured for reference only. It is not the Ram 1500 owned by Jerry Howard.