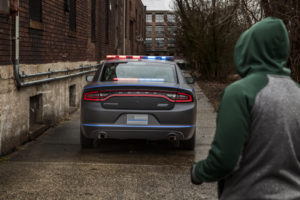 Thanks to an alliance between FCA Law Enforcement and InterMotive, Inc., the popular and potentially life-saving Officer Protection Package is available at no additional cost to law enforcement — we are pleased to report law enforcement agencies have been taking full advantage.
As of late last year (2019), more than 20,000 Dodge Charger Pursuit police sedans across the United States have been equipped with the package.
The Officer Protection Package combines InterMotive's Surveillance Mode Module™ with FCA's Fleet Safety Group technology – ParkSense® rear park assist system1 and ParkView® rear backup camera1 – to alert officers when movement at the rear of the vehicle is detected.
If and when motion is detected, the system will chime to warn the officer of potential danger in the area. With the aid of a camera monitor, the officer can immediately see what is behind the vehicle. The tripped sensors can also be programed at the agency's discretion to automatically initiate a signal for the doors to lock, the front windows to roll up, the reverse lights to turn on and/or taillights to flash. The goal is to give the officer a few critical extra seconds to assess and react to the situation.
Agencies interested in learning more about the Officer Protection Package should watch the video below, visit the FCA Law Enforcement website, call us directly for additional information or, better yet, do all three.
1Always check entire surroundings visually before backing up.