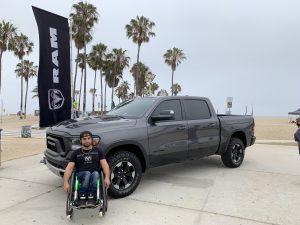 Aaron "Wheelz" Fotheringham is a pioneer in the world of action sports and a true inspiration to all who meet him. He is also a brand ambassador for FCA Driveability. Please enjoy his latest guest blog post, and keep an eye on the FCA Driveability Instagram and Facebook pages to see more of his great content.
What can I say, this summer has been one for the books!
First on the agenda was the Life Rolls On / WCMX event at Venice Beach. I have been volunteering at this event for years and it's one of my favorites. Being able to mentor kids who want to ride the skatepark with their wheelchairs and seeing the excitement it brings them is one of the most rewarding things I get to do. When I heard that Ram Trucks and FCA Driveability were interested in coming to and supporting the event, it got me even more pumped. Honestly, I couldn't imagine a better fit. The WCMX and FCA Driveabilty mindset are one in the same – to keep pushing, keep progressing and to always live forward. The event was a huge success. Coincidentally, it was also the thirteenth anniversary of my first ever backflip.
Not long after the Life Rolls On event I was itching to get back on the road. The destination I had in mind for my next trip was WoodWard Tahoe, an amusement-park-like facility for action-sports athletes like me. Back in 2010 I landed the first-ever double backflip on a wheelchair and I have been terrified of attempting it ever since. At the beginning of the year I resolved to land one again and this was just the place to do it.
With that resolution in mind, I packed up my Ram Rebel and found myself on the road heading toward Lake Tahoe, about an 8-hour drive from Las Vegas, which was more than enough time to ponder what I was about to get myself into (lol). I was anxious yet still confident that it was all going to work out. By the end of the drive, I was feeling energized and ready to ride.
The next two days were full of foam pit practice and almost 40 unsuccessful attempts but finally I was able to land my second-ever double backflip. This was a huge moment for me and it really opened my eyes to what can be accomplished when you just keep pushing. I truly feel blessed to be able to represent FCA Driveability, a brand that is always helping me to Live Forward, double backflips and all.
The FCA Driveability program provides customizable adaptive upfits to help make life easier for people with disabilities. Visit the program website to learn more about the available $1,000 reimbursement on the purchase of qualifying equipment.