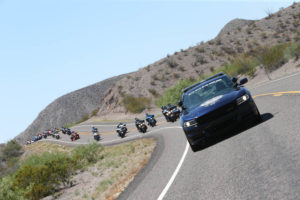 World-famous former racecar driver Kyle Petty is celebrating the 25th anniversary of the Kyle Petty Charity Ride Across America. FCA US LLC is proud to be joining him on the trip.
This year, Petty and team are embarking on the longest route in the event's history, a true "ride across America" that starts in Seattle, Washington, and ends nine days later in Key Largo, Florida. As always, the goal is to raise funds and awareness for Victory Junction, a camp dedicated to providing life-changing experiences for children with chronic or life-threatening illnesses.
Petty will lead 250 participants through eleven states, traveling nearly 3,700 miles, every one of them behind a Dodge Charger Pursuit, the official pace car for the ride. Support staff will accompany the riders in vehicles provided by FCA Fleet.
Spectators along the route are encouraged to attend one of the ride's nine overnight stops or daily fuel stops to meet Petty and the riders, purchase memorabilia and make donations.
25th Anniversary Kyle Petty Charity Ride Across America Schedule
Day 1, Friday, May 3 – Seattle, Washington to Ontario, Oregon
Day 2, Saturday, May 4 – Ontario, Oregon to Orem-Provo, Utah
Day 3, Sunday, May 5 – Orem-Provo, Utah to Glenwood Springs, Colorado
Day 4, Monday, May 6 – Glenwood Springs, Colorado to Santa Fe, New Mexico
Day 5, Tuesday, May 7 – Santa Fe, New Mexico to Childress, Texas
Day 6, Wednesday, May 8 – Childress, Texas to Shreveport-Bossier City, Louisiana
Day 7, Thursday, May 9 – Shreveport-Bossier City, Louisiana to Pensacola Beach, Florida
Day 8, Friday, May 10 – Pensacola Beach, Florida to Tampa, Florida
Day 9, Saturday, May 11 – Tampa, Florida to Key Largo, Florida
More than 8,000 children have attended Victory Junction at no cost to their families thanks for proceeds raised by the Kyle Petty Charity Ride Across America. Last year alone, the charity ride raised $1.3 million and sent 100 children to camp. Victory Junction has served as the primary beneficiary of the charity since it was established by Petty and his family in 2004 in honor of his late son, Adam. To follow along on social media, please bookmark these URLs:
For more information about the 25rd annual Kyle Petty Charity Ride Across America, please visit http://www.kylepettycharityride.com/