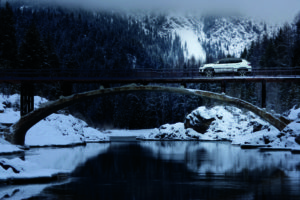 There's a long list of activities to look forward to each year as summer turns to fall, crisp temps set in and fall eases into winter – football games, harvest parties, the holidays and more. Low on that list, we're sure you would agree, is driving to work – or anywhere really – when the forecast calls for rain, ice, sleet, snow or all of the above.
While you can't always avoid commuting in less than ideal conditions, you can prepare for inclement weather well before it hits. We recommend taking the following steps to make sure your daily driver is ready for the colder months ahead.
Routine Maintenance and Repair Work
The transition from one season to the next is a great time to make sure your vehicle is up to date on all maintenance and repair work. If you're overdue for an oil change, for instance, make an appointment. Oil changes often entail a multi-point inspection that can tell you much about your vehicle's readiness for winter.
Are your headlights and taillights functioning properly? Do your windshield wipers need replacing? Are all fluids topped up to recommended levels? Seemingly minor details like low windshield-wiper fluid or a faulty turn signal can become real issues when slick roads and poor visibility make driving more difficult. A qualified service technician will be able to identify potential problems and recommend the best solution.
Check Tire Pressure and Tread
Don't wait until the year's first cold weather event to realize you need new tires. Replace or rotate tires now if they show excessive or uneven signs of wearing.
How much tread is too little? Many experts recommend going by the penny test. We recommend taking your car to the trusted professionals at your local BusinessLink dealership. There they can precisely determine how much tread is left and help you decide if tire rotation, complete replacement or no action at all is your best way forward.
Also always heed the warnings of your tire pressure monitoring system (if equipped), especially during cold snaps. The colder it gets the more tire pressure drops, and that's when your system should alert you. Maintaining the pressure recommended by the manufacturer will help you avoid tire malfunction while achieving better fuel economy.
Prepare an Emergency Kit
Because you never know if or when an emergency will happen, it's always best to stay prepared. Pack an emergency kit with jumper cables, flashlight, road flares, first-aid kit, bottled water, non-perishable snacks, a cell-phone charger, extra hats and gloves, a pocket knife or multi-tool and even a collapsible snow shovel. Storing the kit in your vehicle at all times might seem like overkill, but it takes little effort and, more importantly, you'll be happy it's there should you ever really need it.
Upgrade to Four- or All-Wheel Drive
The ultimate measure in cold-weather preparation is to buy or lease a brand-new vehicle, one preferably with four-wheel drive (4WD) or all-wheel drive (AWD) for optimal traction and control. If it is time for a new vehicle, keep in mind that many FCA vehicles – the Jeep® Compass, for example (see video below) – offer exceptional 4WD/AWD capabilities and are engineered to perform in all types of weather and environments. Visit a dealership near you to begin exploring your options. Do it now, before the snow begins to fly!