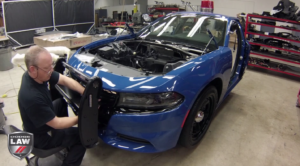 It's a common and comforting occurrence to see troopers from the Michigan State Police patrolling the back roads, byways and highways of the Wolverine State in their distinctly colored Dodge Charger Pursuit vehicles.
Given the vehicle's important and ongoing relationship with the MSP, it's fitting that a Dodge Charger Pursuit be included in the official Michigan State Police Museum and Learning Center in Dimondale, Michigan, just outside Lansing.
Assembled recently in Auburn Hills, delivered to its final home in Dimondale and documented in this time-lapse video (see below), the special interactive "half car" version of the Michigan State Police Dodge Charger Pursuit is on display now and worth a visit if you're ever in the Lansing area.