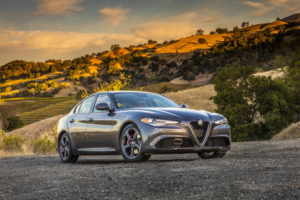 Make room in the trophy case! Following a comprehensive evaluation process that involved more than two dozen vehicles, thousands of test miles and a performance assessment across six key categories, the editors of Motor Trend magazine have named the Alfa Romeo Giulia Car of the Year® for 2018.
The 2018 Motor Trend Car of the Year program was open to any all-new or substantially upgraded 2017 model-year vehicles. Qualifying for the program this year were 26 vehicles and a total of 46 model variants. Rather than being compared against one another, contenders were put through a full battery of performance tests to measure acceleration, braking and limit handling.
Finalists were selected from the contender pool by Motor Trend judges and then evaluated against six key criteria: advancement in design, engineering excellence, safety, efficiency, value and performance of intended function (more on this in the video below). Moreover, the 2018 Car of the Year competition included more than 7,000 miles of driving, including real-world testing with potholes, jagged pavement, steep grades, misaligned railroad crossings and avoidance maneuvers.
"The Motor Trend Car of the Year award acknowledges all of the hard work, dedication and passion that went into developing the entire Giulia lineup – including our record-breaking Giulia Quadrifoglio – which revolutionizes the segment and pays tribute to our storied heritage and racing pedigree," said Reid Bigland, Head of Alfa Romeo. "We are honored to be the first Italian brand to ever receive this prestigious award, and we're excited for the future of Alfa Romeo here in North America and abroad."
FCA Work Vehicles congratulates the Alfa Romeo team. We look forward to hearing more good news in the weeks, months and years ahead from the newest member in the FCA US family of brands. Well done!