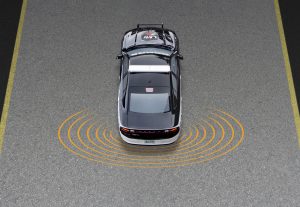 Top of mind for everyone here at FCA Law Enforcement is the safety and security of law enforcement officers who drive our vehicles in the line of duty.
That ongoing concern manifests itself in things like the Officer Protection Package, an available-at-no-extra-cost system of sensors, cameras and alarms that work in unison to detect movement at the rear of properly equipped Dodge Charger Pursuit police vehicles, subsequently alerting officers to potential danger from behind.
While previous posts on this blog have included descriptions of how the package combines existing vehicle technology like the ParkSense® rear park assist system* and ParkView® rear backup camera* with a module developed by California-based InterMotive Inc., we are pleased to share this video showing how the package functions in real-world situations. Please enjoy.
The aptly named Officer Protection Package is available at no extra cost to U.S. law enforcement agencies thanks to the partnership between FCA US LLC and InterMotive Inc. The package is available effective immediately on all 2018 Charger Pursuit U.S. orders. Visit the law enforcement page on the FCA Fleet website for more information.
* Always check entire surroundings visually before backing up.