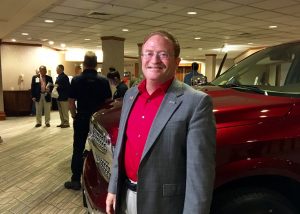 There are certain personality traits that successful small-business owners typically have in common – resourcefulness, perseverance, patience, a strong will and a clear vision for the future to name just a few. Included on that list is sound judgment, the ability to make smart, confident decisions based on the evidence at hand.
Choosing the wrong brand of work truck or cargo van could have detrimental effects on a business moving forward, for example. The fact that the business owners in the videos below not only purchased Ram trucks but remain to this day fully confident in that decision should be seen as a testament to the capability and dependability of Ram Brand vehicles.
Please enjoy these testimonials filmed on location in Washington, D.C., at the National Association of Home Builders (NAHB) mid-year meetings. If you like what you see here, check out Part 1 in the series and then be sure visit your local BusinessLink dealer to see more FCA work vehicles in person.
David Pressly | Real Business | Ram Trucks
Description: Dependability is one reason among many that business owner David Pressly appreciates his Ram 2500. Reliability and ease of maintenance are two more.
Dan Bawden | Real Business | Ram Trucks
Description: Dan Bawden runs two Ram trucks in his remodeling business, not just for the way they look (though that's part of it), but for the fact that they're workhorses too.