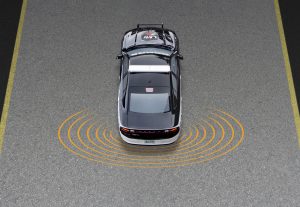 Surprise breakfasts aside, the best way to show our gratitude for law enforcement officers and what they do is to prioritize their in-vehicle safety and security above all else.
It's in this spirit we're pleased to announce that the popular Officer Protection Package will be available in 2018 Dodge Charger Pursuit vehicles at no additional cost to U.S. law enforcement agencies, same as it was for model year 2017.
Extending the no-extra-cost availability of the package is only part of the story, however. Said Jeff Kommor, Vice President – U.S. Sales Operations, Fleet and Small Business Sales, "With critical input and guidance from our Police Advisory Board, we have enhanced the technology's capabilities for the 2018 model year with additional sensors to provide officers with an expanded field of protection."
In its previous iteration, the Officer Protection Package combined the Surveillance Mode Module™ from California-based InterMotive Inc. with FCA US LLC's ParkSense® rear park assist system* and ParkView® rear backup camera* to help detect movement at the rear of the vehicle and subsequently alert officers. New to the package in 2018 is Rear Cross Path detection*, a system that warns drivers of lateral traffic when backing out of parking spaces. The additional sensors help to significantly increase the area monitored, providing more security for officers.
When any of the sensors are tripped, Rear Cross Path detection or otherwise, a chime will sound to alert officers of potential danger in the area. Officers can immediately see what is behind them via the camera monitor and, at the discretion of the law enforcement agency, the tripped sensors will initiate any or all of the following: a signal for the doors to lock, front windows to roll up, reverse lights to turn on and tail lights to flash.
The aptly named Officer Protection Package is available at no extra cost to U.S. law enforcement agencies thanks to the partnership between FCA US LLC and InterMotive Inc., who worked in tandem to develop the technology. The package is available effective immediately on all 2018 Charger Pursuit U.S. orders. Visit the law enforcement page on the FCA Fleet website for more information.
* Always check entire surroundings visually before backing up.