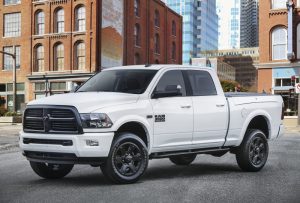 Whether it's for work or otherwise, buyers like to get the best deal possible on their sedans, vans, SUVs and pickup trucks.
Armed with that knowledge, FCA US LLC is careful to keep great offers available for customers, the goal of which, in part, is to reward repeat business and bring first-time buyers into the FCA family.
If you're a small-business owner, for instance, and one loyal to Chrysler, Dodge, Jeep®, Ram or FIAT® Brand vehicles, you might be familiar already with On The Job incentives. For those not yet in the know, these allowances help offset the cost of vehicle upfits, custom graphics, service plans and so on for qualifying individuals. Allowances in some cases can reach as high as $1,000 and – best of all – they can be used in conjunction with other offers and deals, further increasing your chances to save.
It's also important to note that not all incentives are ongoing. Many offers, like those tied to Commercial Truck Season or the Summer Clearance Event, are limited to specific times of year, in this case, fall and summer, respectively. Savvy shoppers should therefore make it a point to visit the vehicle brand websites to see the list of current incentives. After all, a simple click is worth it when there is money to be saved!
For your convenience, here are direct links to the "Incentives & Offers" webpages for all five FCA US brands and also to the FCA Fleet website, where you'll find more information on these great incentives. Happy shopping!
Speak to the experts at your local Chrysler, Dodge, Jeep, Ram and FIAT Brand dealership for information on all offers currently available.