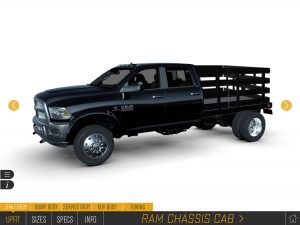 Two exciting new programs from Ram Commercial are set to improve truck-to-customer efficiency in the Ram Truck upfit market. The first is the Ram Augmented Reality Upfit Configurator, a computer-generated visual program. The second, Q Pro, is a new qualification program for certifying upfitter products. Both programs are designed to make it easier for upfitters, dealers and commercial customers to preview, certify and install a wide array of truck-mounted products, depending on their needs.
"The commercial truck segments rely heavily on customer options, reliability and ease of conversion, and no one does it better than Ram Trucks," said Mike Manley, Head of Ram Brand, FCA – Global. "As part of continued improvement, Ram Commercial addresses all three areas with the introduction of the Ram Augmented Reality Upfit Configurator and Q Pro while maintaining industry leadership for ease-to-upfit on our Chassis Cab trucks and Ram ProMaster® vans."
Introduced late last year, the Ram Augmented Reality Upfit Configurator lets potential buyers preview different upfit solutions while taking virtual tours of vehicles with upfitters and dealers. Originally offered on the Ram ProMaster full-size van, the configurator is now available for the Ram ProMaster City® and the entire Ram Chassis Cab lineup.
Ram Commercial has also officially launched Q Pro, a new qualification process that allocates Ram Engineering resources to review, recommend and certify upfitter products. Once certified, the upfitter can use the Q Pro co-brand to help market their product. Meanwhile, customers can rest assured knowing that certified upfits to their new truck or cargo van will always meet the highest standards.
Here's video of Dave Sowers, Head of Ram Commercial Marketing, discussing how the new programs support Ram Commercial's ongoing commitment to convenience and quality. To see examples of that commitment in person, stop by a BusinessLink dealer near you!