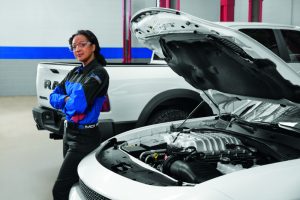 In the era of adaptive cruise control, automatic braking, on-board Wi-Fi availability and other technological wonders, modern drivers should keep in mind that, in terms of vehicle maintenance, a grasp of the basics could still save them money in the long run.
To this end, we're pleased to introduce Mopar® Maintenance Tips, a three-part series showcasing helpful videos from the Mopar Brand that cover fundamental maintenance topics – from the importance of oil changes (see below) to proper tire care and more. Please enjoy Part 1 in the series and remember to come back soon for Part 2.
Oil Change Importance

Description: Oil is the lifeblood of your vehicle. It keeps your engine lubricated – and clean. A lot can happen if you neglect its oil … none of it good. Watch and learn how to keep your car healthy with frequent oil changes.
Oil Change Intervals

Description: You know that rule about changing your oil every 3,000 miles? Well, that's hardly ever true anymore. And the reasons are simple: improved oil chemistry, advanced engine technology and oil life monitoring.
Don't like waiting? Join the free BusinessLink program from FCA US LLC to jump to the front of the line the next time your work vehicle requires maintenance.