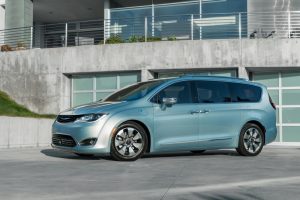 At first glance, the All-New 2017 Chrysler Pacifica Hybrid – America's first-ever hybrid minivan – would appear to have little in common with its predecessors, the comparatively primitive minivans that began rolling of the assembly line more than 30 years ago.
But dig a little deeper and you'll find that, despite innumerable advancements in technology, engineering and design, the philosophy underlying the Chrysler Brand's newest minivan hasn't changed much since the early days. As it was back then, the goal now is to produce a practical, comfortable vehicle that fits a variety of needs.
As we all know, one of the most common needs today is for fuel-efficient vehicles. On that front the All-New 2017 Chrysler Pacifica Hybrid delivers, offering a single-tank driving range of up to 566 miles* and up to 84 MPGe† when using both electricity and gas.
Please enjoy this short but informative video highlighting the Chrysler Pacifica Hybrid's many innovative features, with a special focus on its hybrid capabilities. Then be sure to visit a BusinessLink dealer near you to learn even more about the groundbreaking new vehicle from the Chrysler Brand.
Editor's Note: We're happy to report that since this video was made, higher EPA estimates have been released regarding the single-tank driving range, EV range and MPGe of the Chrysler Pacifica Hybrid. Please disregard the numbers in the video in favor of the estimates found within this blog post. Thank you!
Stay tuned the FCA Work Vehicles blog for more on the All-New 2017 Chrysler Pacifica Hybrid.
*Based on EPA estimated 33-mile EV range, 32 combined city/highway mpg and 16.5-gallon fuel tank. Actual mileage may vary.
† EPA estimated miles per gallon of gasoline equivalent (MPGe). Actual mileage may vary.