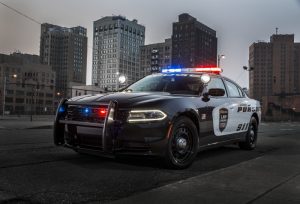 Recent five-star safety ratings for five different FCA US LLC vehicles, including the All-New 2017 Chrysler Pacifica and the 2017 Jeep® Grand Cherokee 4WD, are just a few indications among many that driver safety and security is priority number one here at FCA US LLC.
That commitment to safety and security is not limited to civilian vehicles, either. Today we're pleased to report that, effective immediately, all new 2017 Dodge Charger Pursuit Law Enforcement vehicles will come equipped with safety technology that utilizes rear-facing cameras and radar to detect movement behind the vehicle.
"This technology is designed to prevent an officer from being ambushed from the rear while parked," said Jeff Kommor, Vice President – U.S. Sales Operations, Fleet and Small Business Sales. "While it does not replace vigilance, this technology acts as a second set of eyes and provides police officers with added peace of mind when they are in a parked Charger Pursuit."
The aptly named Officer Protection Package is available at no cost to U.S. law enforcement agencies thanks to a partnership between FCA US LLC and InterMotive Inc. of Auburn, California, who teamed up to develop the technology. The package uses the Dodge Charger Pursuit's ParkSense® rear park assist system and ParkView® rear backup camera to alert the officer when someone is behind the vehicle.
Here's how it works. Anytime the Officer Protection Package technology is active, the vehicle's reverse sensors are on. If and when the sensors are tripped, a chime will sound to alert the officer of potential danger in the area. The officer can immediately see what is behind the vehicle via the camera display embedded in the dashboard. Meanwhile, the tripped sensors signal the doors to lock, windows to roll up and taillights to flash, all automatically.
The Officer Protection Package, provided by FCA US and InterMotive and easily installed by the law enforcement agency, is available now on all 2017 Charger Pursuit U.S. orders.