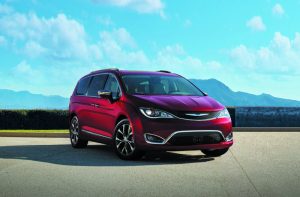 File this one under Big Wins for the Chrysler Brand: U.S. News & World Report, a global authority in rankings and consumer advice, has named the All-New 2017 Chrysler Pacifica the Best Minivan for the Money in 2017.
The award was one of 20 handed out by U.S. News & World Report across a variety of categories, and it was not the only one earned by FCA US LLC vehicles. Joining the Chrysler Pacifica in the winner's circle this year was the 2017 FIAT® 124 Spider, which took top honors in the category of Best Sports Car for the Money.
The Best Cars for the Money Awards are intended to highlight vehicles that provide the optimal mix of quality and value. Scores are generated by combining a vehicle's overall ranking in U.S. News & Report (i.e., its quality) with its five-year total cost of ownership and average purchase price (i.e., its value).
Business owners looking for even more value should check out the list of On The Job incentives available from FCA US LLC. With a variety of allowances to choose from – including service allowances, upfit allowances, graphics allowances and more – On The Job incentives are just the thing to help turn a good deal on a new work vehicle into a great one.
Visit http://www.chrysler.com/pacifica.html for more information on the award-winning new minivan from the Chrysler Brand.