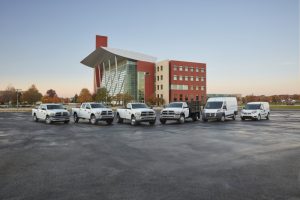 Ask ten different entrepreneurs what it takes to achieve long-term success in business and you'll likely get ten different answers, all ten of which could be right.
It would seem to us that the following is true: Long-term success is the culmination of many small victories that add up to something meaningful over time.
What constitutes a small victory is of course industry specific. For industries that depend on work trucks and cargo vans, victories might include making one less trip to the gas pump, fitting more tools in the cargo van or towing a few hundred extra pounds of material.
Because Ram Commercial vehicles are engineered with these kinds of victories in mind, they are effectively positioned to help business owners gain an edge on the competition, a point reiterated in the video below. Please enjoy.
Ram Commercial Vehicles | Outpace the Competition
Visit a BusinessLink dealership near you to learn more about the Ram Commercial lineup of vehicles.