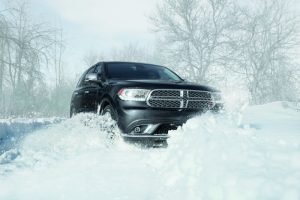 A few weeks ago we reposted an article from the official Dodge blog highlighting the available all-wheel-drive capabilities of the Dodge Charger and Dodge Challenger. Today we're back with a look at the AWD options for two more Dodge vehicles – the Dodge Durango and Dodge Journey. Like the previous post, this one appears with permission from our colleagues at Redline Dodge blog. Thanks, guys!
When the weather gets rough, Dodge Durango and Journey remain rugged. With capability and power to tackle the elements, and safety and security features to help tackle them with confidence, these versatile vehicles are built to perform in any conditions — rain, sleet or snow. Whether you're taking the main road or going off the beaten path, weather is no match for their available all-wheel-drive (AWD) systems. Ready to drive through the driving snow?
Available All-Wheel-Drive Systems
When the roads on your morning commute are more slick than normal, the available AWD systems help to provide added traction on snow, ice and other low-traction surfaces by transferring power from wheels without traction to wheels with traction. The systems work instantly and on demand, sending power to the front or rear wheels as needed. On Durango V8 models, the available AWD system includes a low range on the transfer case for more extreme 4×4 situations. All of this means with either Dodge Durango or Dodge Journey, you'll have greater control whether you're on your way to the office, dropping the kids off at school or on a weekend adventure up a mountain pass.
Standard Electronic Stability Control* and All-Speed Traction Control
For added confidence on treacherous roadways, Electronic Stability Control* (ESC) monitors your steering input and vehicle motion to help give you confidence around every curve. ESC combines the Antilock Brake System (ABS) and All-Speed Traction Control to give you the security and performance the season demands. In addition, Brake Assist senses emergency braking by detecting the rate of brake application and boosts the power as needed to help you stop more quickly in a panic braking situation.
With built-in performance and safety and security features, the Dodge brand says let it snow. We have you covered in inclement weather. When the season brings winter challenges, the affordable Dodge Journey and seven-passenger SUV Dodge Durango — with the most affordable AWD in its class† — welcome the adventure.
Keep an eye on Redline Dodge blog for more great content on the full lineup of Dodge Brand vehicles and the lifestyle that celebrates them.
*Always drive carefully, consistent with conditions. Always wear your seat belt and obey traffic rules.
†Based on 2016 Ward's Mid-size Sport/Utility vehicle segmentation. Excludes other FCA US LLC vehicles.