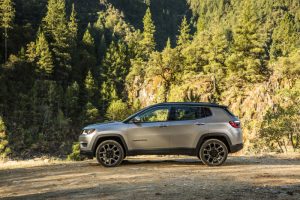 The Jeep® Renegade, the Jeep Cherokee, the Jeep Grand Cherokee Summit, the Jeep Grand Cherokee Trailhawk – one could point to any of these vehicles, new or all-new in recent years, as sufficient evidence of the Jeep Brand's intense and ongoing commitment to quality, capability, reliability and dependability.
Never a brand to rest on its laurels, however, the Jeep Brand recently turned its expertise to the compact SUV segment, replacing the current (and still popular) Jeep Compass with an all-new updated version in an effort to maintain its edge on the competition.
What's groundbreaking about the All-New 2017 Jeep Compass? The answer lies in its design. And who better to discuss that side of things than the people – Jeep Brand designers – who helped bring the Jeep Brand's newest SUV to life.
Creating the All-New 2017 Jeep Compass
The All-New 2017 Jeep Compass will be available for purchase or lease beginning in spring of 2017. In the meantime, keep an eye on the FCA Work Vehicles US blog for continuing coverage of the new and exciting compact SUV from the Jeep Brand.