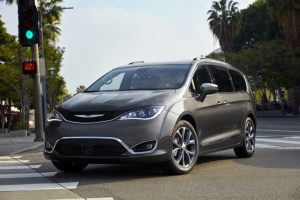 The All-New 2017 Chrysler Pacifica – one of today's most exciting new vehicles – has earned one of the auto industry's most important honors: the North American Utility Vehicle of the Year Award for 2017.
News of the award came during the North American International Auto Show in downtown Detroit early this year. In response, Tim Kuniskis, Head of Passenger Car Brands, Dodge, SRT, Chrysler and FIAT® – North America, said this: "When we first introduced the 2017 Chrysler Pacifica just one year ago, we believed that we had created the perfect formula for today's busy families. But it's the recognition from our customers and respected opinion leaders like the North American Car, Truck and Utility Vehicle of the Year jury that helps to reinforce Pacifica's status in the marketplace as the no-compromises minivan."
Initiated in 1994, the North American Car/Truck of the Year Awards are the longest-running honors not associated with a specific publication, a structure that produces a diverse base of jurors. The Utility Vehicle category, new for 2017, reflects the booming sales and growing diversity of vehicles ranging from rugged off-roaders to family-hauling SUVs and minivans. Whatever the category, journalists from the United States and Canada evaluate vehicles on the same criteria, looking for excellence in innovation, design, safety, performance, technology, diver satisfaction and value.
FCA US LLC minivans last won North American Car of the Year honors in 1996 – it was the only other time a minivan has won an award from the North American Car, Truck and Utility Vehicle of the Year jury. The All-New Chrysler Pacifica notches the latest win in part for adding 37 minivan firsts to its portfolio, including becoming the industry's first minivan available as a plug-in hybrid electric vehicle.
Visit a BusinessLink dealer near you to learn more about the award-winning All-New 2017 Chrysler Pacifica.