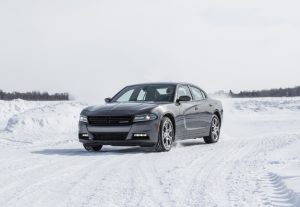 It might be a stretch to include the Dodge Charger and especially the two-door Dodge Challenger in the "work vehicles" category along with vans and trucks like the Ram ProMaster® cargo van or the Ram 3500 Chassis Cab.
Nevertheless, both the Charger and Challenger offer a multitude of features business owners in certain fields (sales, real estate) might find appealing.
The following post, republished with permission from the official Dodge Brand blog, offers a closer look at one such feature: available all-wheel-drive capability (AWD). Please enjoy.
When inclement weather arrives and driving conditions become treacherous, the Dodge brand has you covered with four models in the lineup featuring available all-wheel-drive systems designed for all-weather confidence, including the world's first and only AWD muscle coupe, the new Dodge Challenger GT. The new-for-2017 Dodge Challenger GT (available early 2017) and 2017 Dodge Charger SE and SXT AWD are formidable road warriors no matter the season, engineered for high-performance driving in rain, sleet or snow. We'll highlight the 2017 Dodge Durango and Journey in a subsequent post.
Power For Any Season
Feel the thrill any time of year. Dodge Challenger and Dodge Charger AWD models boast a standard 3.6L Pentastar® V6 engineered to cover some serious asphalt, no matter what snow or ice covers that asphalt.
Pair that power with the available AWD system and you have two vehicles built to own the road in any temperature. The available AWD system includes both an active transfer case and front-axle disconnect system, making it the most technologically advanced AWD system in its class on Charger¹ and a class-exclusive feature on Challenger². The system seamlessly transitions between rear-wheel drive and AWD with no driver input required. When your daily commute takes you down slippery streets, or your weekend adventure calls for a drive through fresh powder, the available AWD system helps keep the Dodge Challenger and Charger powering ahead.
All-Speed Traction Control
Teamed with the available AWD system, all-speed traction control combines performance with safety and security so you can power down the road with confidence. All-speed traction control helps limit wheel spin during acceleration so the drive wheels have maximum traction. If the system detects wheel slip, it applies brake pressure and may reduce engine power to maintain vehicle stability.
Bonus: Heated Seats
If the power, performance, safety and security doesn't inspire you to get behind the wheel in winter, perhaps heated front seats will sweeten the deal. Just because you're not burning up the track doesn't mean you can't stay warm. Ventilated front seats help keep you cool and comfortable even on humid summer days — remember those?
Winter doesn't stand a chance this year. Learn more about Dodge Challenger and Charger all-wheel-drive models at Dodge.com. And stay tuned for another AWD installment featuring the Dodge Durango and Journey.
Thanks again to our friends from the Redline Dodge blog for letting us repost this article. Be sure to tune in regularly to their blog and ours for continuing coverage of highly capable if sometimes non-traditional work vehicles like the Dodge Challenger GT.
¹ Based on 2016 Wards Large Regular Car vehicle segmentation. Excludes other FCA US LLC vehicles.  
² Based on Wards Middle Specialty segmentation.