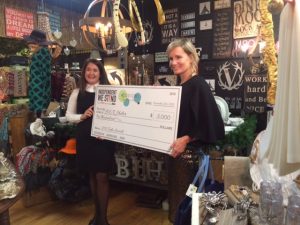 Most communities have at least one – that special small business that makes things better for everyone by virtue of their outstanding customer service, or their high-quality products, or an especially charming atmosphere, or an employee-friendly culture or, in many cases, all of the above.
If you know of one such independently owned company, it's time to reward them with more than your repeat business (which is no small thing!). Nominate them for this year's Independent Small Business of the Year Award.
What is it?
The Independent Small Business of the Year Award, or "The Indie Award," is a three-month-long online contest, created by shop-local advocates (and longtime partner of FCA US LLC) Independent We Stand. The award, sponsored in part by FCA US, is to recognize a locally owned small business that has gone above and beyond in delivering great customer service and community support.
How to nominate
Anyone can nominate an independent business for The Indie Award, including the business owner, by going to IndieBizAward.com. The nominated business must be licensed as a for‐profit business, and they must be located in the United States.
Important Dates
Nominations Accepted, Voting Begins: September 12 – November 13
Announcement of Quarterfinalists (25): November 14
Quarterfinalist Voting: November 21 ­– December 12
Announcement of Semifinalists (10): December 12
Winner Announcement: December 14
Prizes
$5,000 cash
$1,000 STIHL equipment certificate, good at any independent servicing STIHL dealer in the U.S.
"Small Business Website Starter Package" from The Meridian Group. Value: $5,000
Three days/two nights stay at an independent beach resort in Virginia Beach, Virginia, a tour of the STIHL Inc. plant, and a gourmet dinner with the Independent We Stand team. Value: $1,000
Crystal award plaque to proudly display
Public relations and social recognition
The Independent Small Business of the Year Award is the perfect chance to show a deserving locally owned company how much they mean to you and your community. Don't delay – nominate your favorite small business today!
All 25 Quarterfinalists will receive a free Independent We Stand Premium Membership, for life.