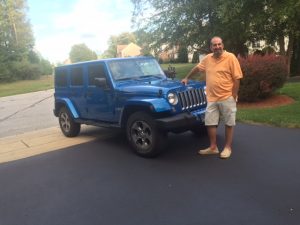 One thing becomes clear when perusing the long list of discounts available to members of the National Association of REALTORS® (NAR): Being a REALTOR® has its benefits. From savings on insurance and deals on office supplies to the $500 cash allowance toward the purchase or lease of select Chrysler, Dodge, Jeep®, Ram or FIAT® Brand vehicles, membership in the world's largest trade association has a value that seems to far exceed its dues.
Credit for creating much of that value belongs to Bob Goldberg. As Senior Vice President of Marketing and Business Development at NAR, it falls to him and his team to manage, maintain and expand the partner programs that provide REALTORS® with so many opportunities to save on goods and services.
We sat down recently with Mr. Goldberg to chat about his work with NAR, the vehicle allowance available to NAR members and – what would seem his favorite topic – the new Jeep Wrangler Sahara in his garage. Please enjoy the interview.
FCA Work Vehicles US: Tell us a little bit about your role with National Association of REALTORS®. What do you do on a day-to-day basis?
Bob Goldberg: It's my job to find opportunities for additional member benefits like the one we offer from FCA US LLC. With 1.2 million members worldwide, we are the world's largest trade association and, because of our size, we are able to form strategic partnerships that save our members money and bring greater value to the NAR membership. REALTORS® everywhere count on us to provide them with unique benefits and opportunities – it's a major reason why many of them join – and we do our best to deliver.
What do you like most about the job?
Real estate is a people and relationship business and that's where I excel. Over the years my team and I have built up trust in our strategic alliances affinity programs. Over 90 percent of our members are independent contractors — not employees of any company. Knowing they can look to the National Association of REALTORS® for help with products, services and benefits that can have a real and positive impact on their businesses, I find that rewarding.
We heard you recently purchased a Jeep Wrangler. Why go with the Wrangler and what do you think of it so far?
We have a place in Delaware and just like in many beach communities it seems like everyone has a Jeep Wrangler. Seeing them all over gave me the bug. I gave up my German sports cars of 22 years and got the Sahara Unlimited, which I can't say enough about. It's the most fun vehicle I have ever owned. It's the ultimate convertible really. My wife says I don't just love my Wrangler, I'm in love with it and there might be something to that [laughs]. You know, traveling is 60 or 70 percent of my job. I log over 120,000 air miles each year. When I'm flying back home I actually look forward to getting back into my Jeep Wrangler. I was just telling my wife, I have never had that feeling about my sports cars – they were all just vehicles. I loved them too, in a way, but the Wrangler is just such a fun vehicle to drive.
What do you think makes the Jeep Wrangler so fun? The attitude? The lifestyle associated with it?
It's all of that. I love my Sahara because of its quality. It has a beautiful leather interior and it's easy to commute in. It's as quiet as the BMW I had, except way more fun. I also like feeling part of the club. It took me awhile to figure out the Jeep wave but I get it now [laughs]. I will tell you I was worried when I bought it that I might not be the right demographic, so to speak. Here I am in my late 50s and I'm wondering if this vehicle is just for twenty-somethings. But we were down at the beach and people from every age group were driving Jeep Wranglers. It really seems to appeal to every generation and all types of people, men and women. I am trying to talk my wife into getting one. She loves it as well, so who knows.
Why are vehicles from FCA US LLC a good choice for REALTORS®?
I like the versatility. With so many different vehicles in the FCA lineup, you can go as conservative or as sporty as you want. I like the Chrysler 200 and 300. I'm excited to check out the new Pacifica. I like the Dodge, Ram and FIAT brands. In general I think they're all just really class brands. They offer something for everyone, whatever your style or size preference.
Why should NAR members take advantage of their $500 member benefit from FCA US LLC?
The beauty of our relationship with FCA US is that it is a true partnership. Both organizations are working together to figure out how to maximize the benefit for each other's mutual success. For example, FCA lets our members combine offers, so on top of the $500 cash allowance, they can also get a service allowance worth maybe $300. NAR's national dues are $120 a year, which means for people who take advantage, the vehicle allowances pay the equivalent of membership dues for five years. That's a pretty good return on investment.
Not all of our readers are real estate agents, but most (if not all) are business people of some kind. What is some general insight you've learned in your career that you could share with our readers?
Someone told me many years ago that you shouldn't play politics in business. If you always err on the side of doing the right thing for the customer or whomever you are serving, over 90 percent of the time you will come out on top. The reason is because you are being responsible to what the market needs and what the customer needs without trying to figure out a way around it. I've also learned that there are no magic answers. If I had any magic answers, I wouldn't be sitting here, I'd be retired on a beach somewhere!
Thanks, Bob! REALTORS® can learn more about the $500 vehicle allowance available through NAR's REALTOR Benefits® Program by visiting the FCA US LLC member-benefit page at www.realtor.org.