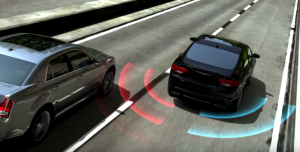 Welcome to the FCA Work Vehicles Glossary, an ongoing blog series in which we define common (and not so common) vehicle terms so that the average buyer can make more informed decisions when purchasing new vehicles for work. Today's entry is Blind Spot Monitoring, a relatively new technology that's sure to be ubiquitous on vehicles of the future.
What is it?
Blind Spot Monitoring is a safety and security feature offered on many newer vehicles in the FCA US vehicle lineup. In short, radar sensors placed at key locations on the vehicle exterior, particularly toward the back end, continuously and automatically monitor areas around the car that can be difficult to see from the driver's perspective, i.e., the blind spots. An automated signal notifies the driver when another vehicle is in these hard-to-see locations, helping ensure that no lane change occurs until the way is free and clear. For a more in-depth explanation of how the technology works, please watch the video below.
Why it matters?
Like many other safety and security features (Adaptive Cruise Control, for example), Blind Spot Monitoring is not meant to replace good driving practices. Rather, the goal of this technology is to help increase a vehicle operator's awareness and to give him or her a more complete picture of the road. Paired with other safety measures, not to mention alert, attentive driving habits, Blind Spot Monitoring can help prevent otherwise avoidable collisions.
Visit your nearest BusinessLink dealer to learn more about the many safety and security features found on FCA US LLC Brand vehicles.