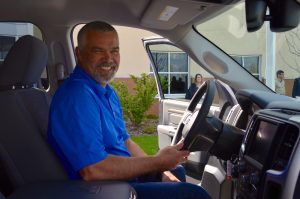 We found Scott Walters in a jobsite trailer at the far end of an industrial park 45 minutes outside Grand Rapids – Michigan's second-largest city. A  building boom in the region means that downtown construction projects are often in the headlines, from the latest highrise condo to the most recent brewery expansion. Like other area contractors, the company Scott works for, Dan Vos Construction, has its share of jobs in high-visibility locations. This is not one of them. Still, Scott greets us with a smile, seemingly happy to be right where he is – making sure an ongoing project for a 40-year client is running as it should.
No doubt it's Scott's enthusiasm for the job and unwavering commitment to client, crew and company (he's been with Dan Vos for 28 years) that led the Associated Builders and Contractors to name him the Craft Professional of the Year (CPOY) for 2016. But talk to him for an hour or so and it's hard to imagine a more fitting, likable representative of the construction industry.
We sat down to chat with Scott about winning the CPOY award, the importace of associations like ABC and, of course, how he was enjoying his new Ram 1500 EcoDiesel Outdoorsman, one of several prizes he received for being named Craft Professional of the Year.
FCA Work Vehicles US: How did you get into the construction business?
I would say it started in high school when I began learning the basics from my shop teachers. After I left school I was actually drawn into furniture-making end of things and found a job in a furniture factory in Lowell, Michigan, not far from my hometown of Ionia. I worked there for three years and realized after awhile that factory life was not for me. I had some friends working at Dan Vos Construction so I contacted them and here we are. I've been with the company 28 years now.
28 years. That's impressive. You must like the company.
I do very much. I wouldn't be here this long if they didn't take care of us and if there wasn't room for growth and learning. I'm a big fan of Dan Vos Construction and I don't think I'm alone. We have an extremely low employee turnover rate and our repeat business from clients is upwards of 95%.
Again, that's impressive. Could you describe your role with company? What do you do on a day-to-day basis?
I'm a jobsite superintendent, which means I'm out in the field every day managing construction projects. I have to look ahead to the next day, the next week, the next month to make sure everything is lining up in terms of materials and manpower. You want all the guys on site to work together as a team, both Dan Vos employees and subcontractors, and it's my job to orchestrate all that – to make sure materials are here on time, that this guy is done with his part of the job in time for the next guy to start his.
So you're like a field general in a way.
You could say that, yes.
Presumably you didn't start at the superintendent level. What was your first position in the company?
I started out as a finish carpenter. We did and still do build a lot of churches in the area and for my first five years at Dan Vos I spent a lot of my time in churches on the woodwork. Then I became a foreman for five or seven years and after that I became a superintendent.
Do you miss the work you did as a carpenter?
You know, it's funny you ask. Last year I had the chance to work on a smaller project for a little while and it was nice to get my tools out again and work side-by-side with the guys. So yeah, I do miss it sometimes. But I still very much like the job I have now.
What does winning the Craft Professional of the Year award mean to you?
Since the nomination came from my bosses and my peers it means a lot to me, that they would think of me highly enough to put in a nomination. Then to actually win the award, man, it was overwhelming – awesome but overwhelming. I guess in the end it confirms that I have the right approach to the job, which is nice.
What do your co-workers and colleagues think about the award?
I get a lot of congratulations. We went out to lunch today and somebody asked me about the new truck, how I liked it. You take a lot of ribbing too, this being the construction industry [laughs]. But overall I think the guys are happy for me.
Why are associations like ABC important for craft professionals like you?
The great thing about ABC is that they help raise awareness for the kind of work we do, the value and the reward of it. When people see that – particularly young people – they might become interested in doing similar work. Word is we're going to have a shortage of manpower in the next few years. Shop programs in high schools don't have the same funding as they did when I was in school so it's up to organizations like ABC to raise awareness of construction as a potential career with good benefits. There's a lot of darn good work out there for people with the right motivation, and the construction industry is part of that.
Now that you've had the truck for a few weeks, what specific feature is proving to be most valuable? MPG? Capability? Storage space?
Each year I put 30,000 to 36,000 miles on my truck, so for me, the 3.0 EcoDiesel V6 engine was intriguing. I ended up going with the Ram 1500 EcoDiesel Outdoorsman and I have to say, so far I'm extremely happy with the mileage I'm getting. Right now I'm running 23 or 24 miles combined highway/city, which is impressive. The first week I had it we took a trip to Chicago – my daughter is looking at colleges. Mileage is one thing, but it was apparent right away that it's a very comfortable vehicle. It rides nicely down the road.
Would you recommend a truck like yours to other craft professionals?
No question. I think Ram has a nice product and I'd recommend anyone shopping for a new truck to go look at one.
What advice do you have for craft professionals striving to achieve similar accomplishments?
Bring your best every day. Enjoy the people you work with. Enjoy the work you do.
If you can, try to sum up the entire experience in a single word or two.
I'm honored. I'm honored to be in this industry. I'm honored to be working for Dan Vos Construction. It's been good for me. It's been good for my family. It's a good life to have. I'm honored.
FCA Work Vehicles US would like to congratulate Scott again on his award. We'd also like to remind our readers that members of ABC and similar organizations are eligible for a $500 cash allowance toward the purchase or lease of select Chrysler, Jeep®, Dodge, Ram of FIAT® Brand vehicles. For more information, stop by your nearest BusinessLink dealership or visit the member benefit page on your association's website.