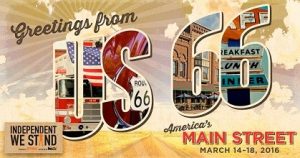 These days our country is absolutely brimming with enthusiastic advocates of America's Main Streets. Just ask Independent We Stand.
On March 1, 2016, the Independent We Stand team set out on a 12-city, 6-state, 1,400-mile road trip on Route 66. Their mission: Not just to raise awareness for the America's Main Street Contest (which they accomplished), but to meet, talk to and interview a few of the many great people out there championing the shop-local ideal.
In this they succeeded as well. For proof, take a look at the video below. It features several of the small-business owners, small-business employees and Main Street representatives the team got to know along the way, none of whom needed prodding when asked to share what they love about independent small business.
FCA US LLC and FCA Work Vehicles US are proud sponsors of Independent We Stand. Keep an eye on our blog and theirs for more videos, contests and road trips like the ones highlighted above.