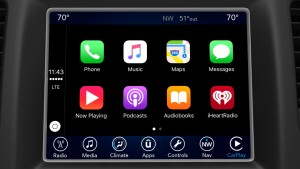 Call us biased if you will, but to us few things are more exciting than the speed at which automotive technology is advancing today. From increasingly fuel-efficient powertrains to the state-of-the-art safety and security systems found in vehicles like the Chrysler 200, the innovations that were only rumors a few years ago are now becoming reality, with word of more breakthroughs and progress coming almost every day.
In 2016, for example, FCA US LLC will introduce a portfolio of Uconnect systems boasting performance improvements for faster startup times and enhanced processing power, not to mention more vivid touchscreens with improved resolution, brightness and responsiveness.
"The Uconnect team is evolving Uconnect and making it even better," said Joni Christensen, Head of Uconnect Marketing, FCA US LLC. "With the launch of the fourth generation of Uconnect systems, we are continuing to minimize the everyday stresses of busy lifestyles by providing drivers with a variety of ways to stay conveniently connected to their vehicles, while making every drive exceptionally informative, entertaining and unique."
As part of that effort to keep users "conveniently connected," the Uconnect 8.4 NAV system, and select others within the global portfolio, will include Apple CarPlay and Android Auto, the specific features for which are listed below.
Apple CarPlay: Apple CarPlay provides drivers with a smarter, safer way to use an iPhone inside a car. Apple CarPlay seamlessly integrates an iPhone with the car's built-in display and controls in addition to featuring Siri voice control. Now drivers can make phone calls, access music, send and receive messages, get directions optimized for traffic conditions and more while staying focused on the road.
Android Auto: Android Auto automatically provides drivers with a safer way to use Android while driving. The system will share useful information while you drive and make it easy to access the best of Google. It features Google Maps with free voice-guided navigation, live traffic information, lane guidance; on-demand access to 30 million songs with Google Play Music; the ability to place phone calls or send and receive messages while keeping your hands on the wheel; and ask Google search any question. Android Auto also makes it easy to access popular apps and content from the Uconnect system's touchscreen.
Visit your local BusinessLink dealer to learn more about the exciting new technology found across the complete FCA US LLC lineup of vehicles.