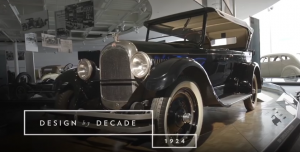 Talk to any REALTOR or contractor and he or she will tell you the one thing you can depend on in housing is that styles always change – what's popular one generation is passé the next. Factor in constant advances in terms of materials, technology and even building code, and its no wonder houses built today diverge so much in appearance from houses built 75 or 100 years ago.
The auto industry is similar, to some extent. Each new model year comes with sometimes small, sometimes significant design and technology changes. Eventually the car industry as a whole evolves into something even the most forward-thinking visionaries could hardly have predicted even 25 or 50 years before.
That evolution is on display in the new Design by Decade video series from the Chrysler Brand. In honor of its 90th Anniversary, the Brand has selected one iconic vehicle or style element to highlight from every decade of its existence, starting with the roaring '20s. The first three videos in the series are below, with more on the way in subsequent blog posts. Please enjoy.
1924 Chrysler B70 Sedan
Description: The 1924 B70 was the very first Chrysler vehicle, yet it shares design characteristics with vehicles we still produce today. Chris Benjamin, Head of Interior Design FCA, walks us through this historic vehicle.
1934 Chrysler Airflow
Description: In the '30s, the Chrysler Airflow was ahead of its time. The first car developed in a wind tunnel, it was quieter, sleeker and faster than other cars of the era. Chris Benjamin, Head of Interior Design FCA – North America, on the Airflow's art deco-inspired design.
1948 Chrysler Town & Country
Description: The late '40s brought the end of the war and the renewal of car production. One of the first cars off the line was the beautifully crafted Town and Country. Chris Benjamin, Head of Interior Design FCA, talks about the 1948 Town and Country.
Explore the latest iteration of the Chrysler Brand lineup by visiting your nearest BusinessLink dealer.