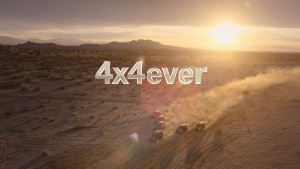 The two Jeep® Brand commercials that debuted during this year's Big Game are proof that a brand can be more than just a product — it can be a reflection of the people who embrace it and a symbol of adventure, freedom and individuality.
Building that kind of brand capital doesn't happen overnight. It's taken the Jeep Brand 75 years of producing consistently capable vehicles – from the Jeep Wrangler to the Jeep Grand Cherokee to the Jeep Renegade – to elicit the strong emotional response it enjoys from consumers today.
Even with its proven track record, the Jeep Brand is well aware that it's ultimately not responsible for creating the Jeep mystique, its drivers are, a fact pointed out with dramatic effect in the first to the two spots below. Please enjoy.
Portraits

Description: We don't make Jeep®. You do. Our story is your story. In celebration of our 75 years, we salute the faces and the vehicles that embody the spirit of the Jeep Brand. Share your story with us using #MyJeepStory.
4X4Ever

Description: When you drive a Jeep® 4×4, freedom and adventure become a way of life. Ride along as Morgan Dorr provides the soundtrack for those who live by a different code. For today, tomorrow, forever.
Visit your local BusinessLink dealer to check out the entire Jeep Brand lineup.