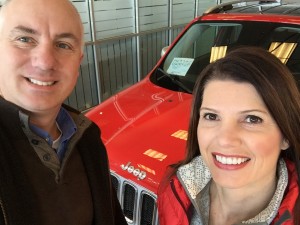 David Chapin is the President of Willmar Electric, a fourth-generation electrical contractor with offices in Nebraska, Minnesota and Oklahoma. He's also the new National Chairman of the Associated Builders and Contractors (ABC), one of the many great trade associations FCA US LLC is proud to call a partner.
Combine David's two current vocations with a lifetime spent living and working within the merit shop system, and it's no wonder we would tap him for an interview. A resumé like his is sure to come with an interesting, well-informed perspective on small business – a perspective we believe our readers will find both helpful and compelling. Please enjoy the interview.
Could you please start by telling us a little about ABC for readers who might be unfamiliar with its mission?
ABC is an organization of 21,000 construction-related businesses from across the country. We have 70 chapters representing our interests at the local level, but ABC is a national association. We represent what we call the merit shop side of the industry by working to fight for and maintain competitive balance and free enterprise.
The merit shop philosophy is based on the idea that all contractors should have an equal opportunity to win work. In other words, things should be done in an open and fair way, while people, companies and contractors should be judged on their merit, regardless of what their labor affiliation might be.
Why does your organization matter for people in non-construction-related fields? In other words, if I'm building a new location for my small business, why should I make sure the contractor I choose is a member of ABC?
ABC represents the best in contracting. We have workforce development programs to make sure our members and their employees are the most highly trained and safest builders and contractors around. Because they're so well trained, you, the consumer, will get a competitive price and a superior-quality product from members of ABC.
Is it easy to find who is and is not a member of ABC?
Visit abc.org to look up an ABC chapter in your area that can point you towards qualified contractor members. Also, most member companies advertise in some way that they are members of ABC. As an organization, we give out hardhat decals, which people use as a kind of seal of approval. We like to think that seeing the ABC logo is a sign of quality as well as safe and smart business practices.
What are you hoping to accomplish in your time as ABC's national chairman?
2016 is an election year so we're going to spend a lot of time working to get candidates elected into public office who are supportive of ABC's mission. My other main objective is workforce development. Our member companies last year spent $1.1 billion to educate and train their employees, an investment in trying to advance the people working in our industry. So we're really going to work to push forward in that regard.
There will be a skilled-worker shortage of about 1.6 million people by 2022, according to the Bureau of Labor Statistics. We're trying to figure out ways to make our industry more productive and also sell the idea of construction-as-career to the young people of America, that it's rewarding and great career to be in. After all, it's one of the few industries where you can get in on the ground floor, get in an apprenticeship program and eventually become a business owner. That's an exciting proposition for many people.
You're a fourth-generation family-business owner – How does being part of a business with that kind of longevity and history prepare you to lead an organization like ABC?
Growing up as I did, in the business, the ABC mission became part of who I am. I was brought up with the merit-shop philosophy and it became engrained in me. When I was a young kid, it's what we talked about at the supper table. Obviously it wasn't the only conversation, but from time to time, my dad would talk about business and the struggles he faced, and it was hard not to take it all to heart. Bringing that lifelong experience into ABC is just kind of natural. It's not a compartment in my life — it IS my life. The ABC mission is very much who I am.
From your perspective, why is a partnership with FCA US LLC important to ABC?
Most contractors are not big enough to get discounts all over the place on their own. So the idea of getting a kind of inside deal from FCA US makes you appreciate your job and the ABC membership. Obviously we're in an industry that depends on transportation. Our businesses run on trucks, and for contractors who buy enough trucks in a year, a $500 discount can actually pay for the membership. We think people should belong to ABC for the principles of the organization and not because they can get cheaper cell phones and vehicles, but it ties into what we do and the savings are a bonus.
We hear your wife just bought a new Jeep® Renegade — What about the vehicle made it the right choice for her and your family?
I asked my wife last night what she liked so much about the vehicle and "fun" was the first word out of her mouth. But it's also nice to know that with its capabilities you can drive it pretty much anywhere. The Renegade comfortably seats four people and also handles very well. She likes the SUV style because she sits up higher. We looked at a few other vehicles but she just liked how high she sat up in the Renegade. And, because it was so affordable, she could get all the options. The technology in that car is top of the line. She got all the bells and whistles.
Did you take advantage of the ABC member benefit (available to household family members) when purchasing your Jeep Renegade? If so, was claiming the benefit a relatively easy, straightforward process?
Yes, we did and yes, it was. To be honest, I was prepared for a hassle and didn't get it. We went to the Jeep® dealership to look at vehicles – it was the only dealership we went to – and once we decided on the Renegade, we negotiated the price without mentioning the discount. When it was all over and we had agreed to a price, I mentioned my ABC membership, which the salesperson was quickly able to verify. Just like that, we got an additional $500 off.
What specific vehicle features (mpg, connectivity, overall capability, etc.) is your wife finding most valuable?
She likes the remote start, and how easily she can sync her phone. She likes how smart the car is, how it knows when it's cold out and can automatically start the heated seats, for example. The technology is impressive.
Name one valuable resource you would recommend to business owners across the country. (It could be a website, a book, a podcast, etc.)
I really like to read Patrick Lencioni's books. They're all great but in my opinion the best one is The Advantage. If there is a businessperson out there looking for inspiration, or education, I would recommend he or she read this book. Lencioni stresses the importance of organizational help; he believes the key to success in business is creating healthy relationships within the company. It's good stuff.
What is one simple thing you wish more business owners would do?
Live up to their word. I get frustrated when people under deliver or don't meet deadlines. Don't tell me what I want to hear just to please me, give me a realistic answer and then deliver on it. That's how business is done.
What's the best business advice someone ever gave you?
The best advice I've ever received is a bible verse, Matthew 5:37: "Let your yes be yes and your no be no." To me that means, simply, be true to your word. If somebody asks you a question, even a difficult one, be straightforward. Be honest and have integrity. Even if you have to give someone bad news, don't put it off. It will only get worse.
Would you recommend a Jeep Renegade to other business owners?
Yes, I would recommend it to other business owners. If you need to get out to the job site, maybe in less than perfect conditions, or if you want to get in and out of tight places, the Renegade is a terrific vehicle for that.
Learn more about the $500 vehicle allowance available to ABC members by visiting the benefits page on their website. And remember – ABC is not our only partner association. Visit this page to see if your trade association is one of the many we proudly call a partner.