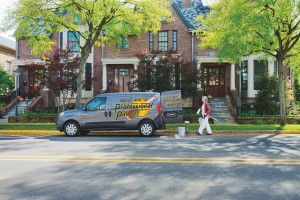 We may have named it for the city, but we kept the environment in mind.
Thanks in part to an unsurpassed EPA-estimated 29-mpg highway rating*, the Ram ProMaster City® has been named by the Green Car Journal the 2016 Commercial Green Car of the Year. The honor comes one year after its light-duty pickup-truck counterpart, the Ram 1500 EcoDiesel, won a similar award for model year 2015.
"The Ram ProMaster City not only provides the functionality and easy urban maneuverability so important to businesses and tradesmen, it does so with impressive operating efficiencies and lower environmental impact," said Ron Cogan, editor and publisher of Green Car Journal and CarsOfChange.com. "This is the core focus of the Commercial Green Car of the Year™ award and the ProMaster City is a very deserving winner."
A jury of automotive experts along with staff from the Green Car Journal selected the winner from a number of finalists. Judges considered all potential commercial vehicles in the U.S. market, weighing environmental attributes alongside traditional touchstones that define what customers seek, such as functionality, versatility, safety, value and style.
"We are honored to see the Ram ProMaster City titled Commercial Green Car of the Year, affirming our efficiency leadership in the commercial vehicle market," said Bob Hegbloom, Head of Ram Brand, FCA – North America. "The ProMaster City has been an incredible success along with our full line of commercial vehicles from Class 5 trucks to Class 1 vans with features, fuel economy and capability as a priority."
As the newest addition to the Ram Trucks commercial vehicle lineup, the Ram ProMaster City contributes to the expanding, purpose-built van segment with a number of best-in-class, functional elements tied directly to commercial customer demand. To learn more about the Ram ProMaster City and how it can help your small business, visit your local BusinessLink dealer to schedule a test drive today.
*Based on latest available competitive information. Class is small commercial van segment. EPA estimated 29 hwy mpg with 2.4L engine and 9-speed automatic transmission. Actual mileage may vary.