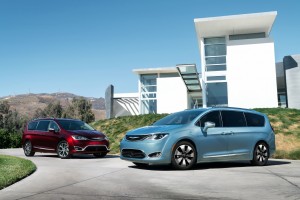 More than 30 years ago the Chrysler Brand upended the auto industry by introducing a brand new type of vehicle – the minivan. Today the brand sets out to disrupt the industry again with another game changing, groundbreaking vehicle, the all-new 2017 Chrysler Pacifica.
Featuring 37 minivan firsts – including a hands-free power lift gate and new "easy tilt" seats allowing convenient access to the 3rd row seating – the all-new 2017 Chrysler Pacifica is not just the next great thing to hit the minivan market, it's a complete reimagining of what consumers should expect from vehicles in this segment. Nowhere is that more evident than in the Pacifica's hybrid version, which, when available later this year, will offer up to 80 MPGe and deliver a 530-mile gas and electric range without stopping.
Supremely stylish yet incredibly practical, this exciting new minivan combines the most forwarding-thinking technology available today with the same design understanding that has made Chrysler minivans a favorite among consumers for the last four decades. And, with seating for eight and impressive connectivity options, a variety of small-business owners (real-estate agents, in particular) will find the vehicle more than meets their business needs.
Please enjoy this video of Tim Kuniskis, Head of Passenger Car Brands, unveiling the all-new 2017 Chrysler Pacifica at the North American International Auto Show in downtown Detroit. Stay tuned to our blog for more information on the Pacifica specifically and the entire revamped Chrysler lineup in general.