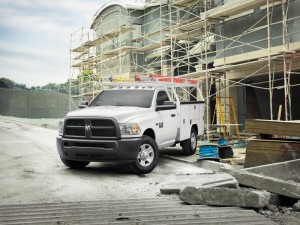 Knowing when to call it quits can be tough. An old pair of work gloves is fine one day, then you wear a hole right through one of the fingers the next.
As a business owner with a careful eye on spending, you want to get the most out of your tools, including your work truck. At the same time, you don't want a mechanical failure to leave your truck stranded and unable to contribute. Upgrading your truck can keep it functioning reliably and make it more capable of meeting your needs. An alternative is buying a new truck and outfitting it the way you want from the start. Below are some of the advantages and drawbacks of upgrading your vehicle, compared to buying a new one.
Upgrading your truck
After you've used a vehicle for business for some time, you know how it helps you get the job done and where it could use some improvement. That may be the biggest advantage of keeping your existing vehicle: for better or worse, you know what you're working with. Deciding how to improve your older truck is as simple as making a list of opportunities for improvement as you work.
Simple things, like adding some D-rings to secure cargo, can go a long way toward making your truck easier to use. Ladder racks can be helpful if you carry longer tools and materials. Installing shelving in a van is ideal for service jobs, and upgrading your truck with a trailer hitch can improve your ability to move larger loads with ease.
Of course, your truck needs the capability to tow in order to gain from adding a hitch. If your engine and brakes aren't strong, towing may not be a good idea. Similarly, you don't want to invest in upgrades if the truck's mechanicals — engine, transmission, brakes — are not strong. No truck will last forever, so avoid spending too much on one near the end of its useful life.
Still, upgrading an old truck can be more economical than buying a new one. You may have the occasional pricey repair, but overall, costs will likely be lower.
Buying a new truck
If your truck has already served you for years and the costs of maintaining it are rising sharply, buying a new truck may be the wiser choice. One distinct advantage of a new truck is that its expenses are more predictable. If you finance or lease, you have a consistent payment every month, compared with an old truck that may cost nothing one month but leave you with a pricey repair bill the next. New vehicles are also typically more fuel efficient, so you can make up some of its cost in fuel savings.
When it comes to outfitting your new truck with the accessories your business needs, new trucks have a distinct advantage. Dealers will often include upgrades in your finance deal, allowing you to add racks, equipment or even a graphics wrap to help market your business without paying cash out of pocket. Instead, the costs of upgrades are included in your monthly payment.
As a business owner, you want to make the best choices for your business because you know those choices affect more than just profits. Your customers, your employees and your family also depend on your wise management of company resources. If you're not sure if your business needs a new truck now, think about whether upgrades could help it to serve you well for a few more years. If even upgrades cannot help, it may be time to shop for a new vehicle.