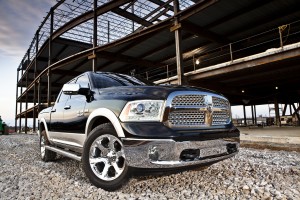 Offering good products at the right price is the foundation of any successful business venture, whether it's a one-woman fashion label on Etsy or a large auto manufacturer like FCA US LLC. Without well-made merchandise at an affordable price, all retail and manufacturing outfits, even those with the large marketing budgets and top-notch sales teams, will eventually lose the support of their customers.
It's for this reason we're so pleased to have three vehicles awarded by the automotive editors at Consumer Guide® with Best Buy distinctions in 2016. While the award itself is nice, what it represents is more important – that the vehicles we're building are not just reliable, capable and durable, but that they're a good value for the consumers for whom they've been designed.
The three vehicles recognized this year by Consumer Guide Automotive are the Dodge Durango, the Jeep® Renegade and the Ram 1500. The Dodge Durango earns the Best Buy Award in the Large SUV segment for the fourth consecutive year, the Jeep Renegade secures the Best Buy Award among Subcompact SUVs and the Ram 1500 captures the Best Buy Award for Large Pickup Trucks for the eighth straight year.
"We are pleased to recognize FCA US LLC's enduring success in the Large SUV and Large Pickup Truck classes," said Tom Appel, Publisher of Consumer Guide Automotive. "We are equally pleased to award the newest Jeep crossover Best Buy status for 2016."
Consumer Guide Automotive editors thoroughly evaluate more than 150 new cars, trucks, minivans and SUVs sold in the U.S. and select the top ones in each class as Best Buys. According to Consumer Guide Automotive, a vehicle does not become a Best Buy based solely on objective ratings; Best Buys also distinguish themselves as good values compared to other vehicles in their class.
For more information on the Consumer Guide Automotive 2016 Best Buys, visit consumerguide.com. For more information on our award-winning vehicles, please visit your nearest BusinessLink dealer.