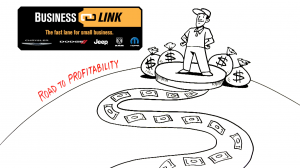 The most successful small-business owners are those that surround themselves with the most talented professionals. Be it employees or business partners, CPAs or insurance agents, a savvy entrepreneur understands that it takes a team of skilled individuals to really get a business humming.
Here at FCA Work Vehicles US, we believe a qualified expert to help manage your work vehicles is just as important as the skilled attorney who helps write your contracts. That's why we offer BusinessLink, a free service that pairs business owners like you with vehicle experts from our dealerships who will help you take advantage of a number of program-exclusive services. Want to know more about these services? Please watch the video below.
Visit our website for more information on BusinessLink and to begin the enrollment process. Remember, enrollment is free.