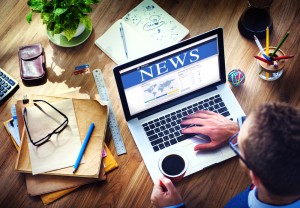 Here at FCA Work Vehicles US, we understand that entrepreneurial success comes, in part, from staying on top of developments in the world of small business. We also understand that in any given month there is just too much good information to discover on your own.
With that in mind, we're pleased to bring you the November edition of Small Business in the News, a monthly series in which we share a few of the noteworthy articles we've come across in our own attempt to stay "in the know." Please enjoy.
Can you get sued for sending late night work emails?
To stay on the right side of the law – and avoid lawsuits – small-business owners should be aware of the rules surrounding after-hours communication with non-salaried employees. In this article from NFIB, employment attorney Casey L. Sipe explains the risk involved with late-night emails and why it might be better to forbid certain employees (i.e., non-exempt) from answering any type of communication, emails or otherwise, after normal business hours.
How to manage someone you don't like
Time to face facts – as an employer, you're just not going to like everyone you manage. But you don't necessarily have to let that get in the way of a productive work environment, either. That's the message in this article from Inc., which offers several tips for reconciling bad blood between you and a subordinate before more drastic measures must be taken.
Omni-channel retailing for small businesses
Like their big-business counterparts, small retail businesses should absolutely invest in digital properties (website, social) in order to create well-rounded, compelling and satisfying experiences for customers. This article from shop-local advocate Independent We Stand offers suggestions for creating dynamic online spaces that complement existing brick-and-mortar locations, which, as IWS points out, will likely still produce the majority of sales for a small business. Also included is a very helpful demographic breakdown of who tends to spend money online, and how.
Have you recently come across any small-business news worthy of sharing? If so, let us know about it in the comments section below!