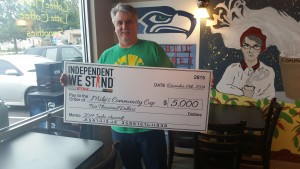 Our partner Independent We Stand is now accepting nominations for the Independent Small Business of the Year Award. Here's Independent We Stand Executive Director Bill Brunelle to explain how "The Indie Awards" reflect and celebrate the impact of independently owned businesses on the community.
By Bill Brunelle
Independent We Stand is excited to announce that for the fifth year in a row we are hosting our Independent Small Business of the Year award, otherwise known as the Indie Awards! The Indie Awards are all about recognizing businesses that go above and beyond for their customers and make a significant impact in their community.
This year we are rewarding one winning finalist with a prize package valued at over $10,000. The package includes: a check for $5,000, a $1,000 STIHL certificate, a "Small Business Web Starter Package" from The Meridian Group, a 3-day/2-night stay at an independent beach resort in Virginia Beach (trip valued at $1,000) and more. All quarter and semifinalists will also receive a Premium Membership with Independent We Stand, for life.
Small businesses give back to their communities by returning money to the local economy and supporting local causes and organizations. The hardworking men and women behind these indie businesses help strengthen our economy, all while sharing their passion and small-business stories with their neighbors and surrounding communities. The Indie Awards celebrate some of the best locally owned businesses in the country and encourage the audience to buy local and shop small whenever possible.
The nomination period runs from September 14 to November 15. Semifinalist voting begins November 23 and runs through December 13. A panel of judges will then deliberate and select the finalist that has gone above and beyond to deliver superior customer service and shows active community involvement. A winner will be announced December 16. Past Indie Finalists include: Howard Brothers Hardware in Georgia, All-Points Personal Transportation in Raleigh, NC, Trio Hardware in Plainview, NY, and Mike's Community Cup in SeaTac, WA (pictured above).
From hardware stores to business-to-business companies, any for-profit, locally owned business in the United States is eligible for a nomination. You can find official rules by clicking here.
Please consider nominating a business and sharing your nominations and votes on social media to help us spread the word about the importance of these locally owned businesses. You can find weekly contest updates by following us on Facebook and Twitter. Feel free to email us with any additional questions at: info@independentwestand.org.