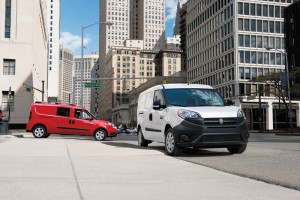 The requirements and challenges of operating a delivery service in an urban area are different from those in suburban or rural areas. In cities, trips tend to be shorter in distance, but heavy traffic can mean spending just as much time on the road. Narrow streets and heavy pedestrian traffic are common in urban areas, too, and parking can be a real challenge.
Businesses in urban markets may find that a delivery van is a better choice than an open vehicle like a pickup truck for several reasons. Security is certainly a factor in densely populated areas, and a van allows you to lock up tools and cargo. You work hard to provide high-quality service to your customers. Loss from theft can not only damage your ability to respond to customers quickly and effectively, but can also eat into your business's profits.
Before shopping for a van to handle urban deliveries, consider the following criteria and features to find one that's well-suited to your needs.
Size
For some businesses, a full-size van is a must. Oversized cargo requires significant volume and large door openings, and full-size vans offer more space and easier access than smaller ones. The Ram ProMaster® is an example of a full-size cargo van that can swallow huge parcels or a massive load of smaller ones. The ProMaster is also versatile, available in a range of sizes. Ram offers three chassis choices — 1500, 2500 and 3500 — along with two roof heights and three wheelbase lengths. A ProMaster can accept a forklift's pallet of cargo in either its side or rear doors.
Of course, larger vehicles have their drawbacks in urban settings. Parallel parking a long van in the city can be tricky, and a high roof can present problems in a parking deck. Thankfully, business owners with smaller cargo can choose a smaller van, like the new Ram ProMaster City™. If these smaller vans fit your delivery needs, you'll save money on fuel and improve your chances of finding a parking space or getting your vehicle as close to the delivery point as possible.
Maneuverability
A smaller van can be easier to drive on narrow city streets, too, thanks to a tighter turning radius and narrower, shorter exterior dimensions. The comparison between a full-size van and a compact cargo van is similar to that of a limousine and a typical sedan. A limo may carry more people, but cutting a right-hand turn with its extended length requires more care.
Regardless of size, both the Ram ProMaster® and Ram ProMaster City™ offer some technology to make parking easier. A backup camera is available for either vehicle, as is the ParkSense® system, which gives the driver audible warnings when the vehicle approaches an obstacle at low speeds.
Economy
Some say more is always better. But for urban delivery, the best vehicle suits your needs without going overboard. Just enough space and capability means minimizing fuel wasted on pushing extra weight.
The ProMaster City is the fuel economy king of the bunch, rated at 29 mpg highway with a 4-cylinder engine and 9-speed automatic transmission.
The delivery van options available today are many and varied, just like the businesses that use them. Because a vehicle purchase is such an important investment for your business, think carefully about your needs before making a decision. The right van will help you complete urban deliveries quickly and efficiently, meeting customers' needs and maintaining pride in the quality of your work.