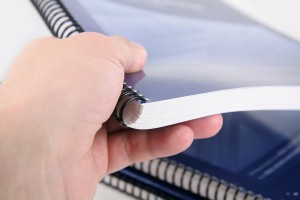 You know how to do your work and what you expect of your employees. But do they know what you expect of them? Have you communicated it to them clearly?
If not, it could be time for an employee handbook: a set of instructions about your company, its services, what you want your employees to do and how — and what you expect of them.
Even with a small business like yours, rules need to be in writing, in English and Spanish, so they are understood by all your workers.
The U.S. Small Business Administration (SBA) notes that some rules — such as taxes, vacation time, sick pay or health insurance — are determined by the state you live in and affect all employees. Other rules are specific to the job each person has.
These rules take time to explain. You're busy, and what if they have questions? That's why it helps to put all the rules together in an employee handbook. When a new person starts, you can spend a few minutes walking them through the handbook.
A good employee handbook doesn't need to be long and detailed. Brief is better. Cover the essential issues that are important to your business, which can include the following.
Pay and benefits
This first section describes what you provide as the employer. What are the company's business hours? Are employees paid weekly, or every two weeks? What day do they get paid? Will workers get overtime pay? If patrons give tips, how are they shared? How many paid vacation days do new employees get? Are they paid for sick days? Is the business open on Christmas Eve?
Employee handbooks can also include how your company handles more complicated issues, such as health insurance, maternity leave and jury duty.
You may need to include how you deal with workers who were born outside the United States or who are not U.S. citizens. Are you willing to sponsor a person's visa? The U.S. government has many rules regarding people who do not speak English or who have foreign accents, notes Nolo. It's better to take the time to find out more about these questions before you include them in your handbook.
Employee behavior
Behavior is what you expect from your workers, both in terms of what is acceptable and what is not. If someone is late for work, how is he penalized? At what time can employees take lunch, and for how long? Who do they call if they are too sick to work?
Include any activities you want to encourage or discourage. If music is allowed in the back areas, say so. Emphasize that smoking is not allowed in the building. If someone recommends a friend that you hire, tell him he will receive a bonus.
Nowadays, even small business owners are expected to have some policy concerning inappropriate behavior, especially sexual harassment. Many organizations offer guidelines on how to handle these complaints.
Safety issues
Whether you own a construction business, a landscaping operation or a flower shop, no type of workplace is 100 percent safe. Clarify any rules you might have concerning machines, such as electrical equipment or waste disposal. Describe what people should do in case of a fire, or in case an employee gets injured or has a medical emergency. The SBA offers guidelines on workplace safety.
Before distributing your handbook, ask a lawyer with labor experience to review it. Clear and simple employee guidelines can make life at work easier for both you and your employees.